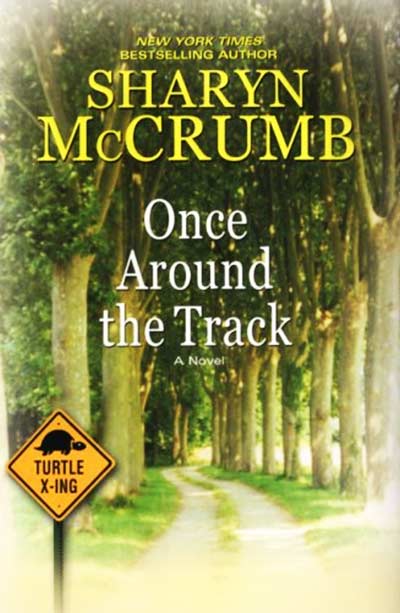 Order Now
Hardcover signed by the author. $25 plus $4 domestic shipping. Virginia state sales tax added to orders shipped to Virginia addresses.
Quantity:
Heroes and where we find them
Once Around the Track, again set in NASCAR, chronicles the adventures of story of an all-woman NASCAR team that hires a "pretty" male driver. With a female version of Viagra for a sponsor and the driver's evil manager thwarting the team's efforts, it is a wild ride both on and off the track.
I was interested in all the different ways the 'pretty male driver' is perceived by the other characters. Skinny boys in firesuits look like warrior angels, and one tends to expect them to be kinder, wiser, braver, etc. than they could possibly be. It was an interesting way for me to structure to look at our need for larger-than-life heroes.
Researching the book was quite an adventure. I did a ride along in a race car, consulted the Pettys and the Earnhardts, and had a NASCAR driver on SpeedDial to keep me out of trouble. This may be the first book ever to have a pit crew to make sure I got everything right. My good friend Daytona 500 winner Ward Burton helped to write the chapter set at Darlington, and a NASCAR gas-man and an engineer helped out. I got advice from a Who's-Who of NASCAR. But what really interested me was that feeling of awe that fans have for their driver. In some ways this book is as much about religion as St. Dale was. It is not a sports book. It's about our need for heroes. Trust me.
"McCrumb...has become the bard of motorsports. There are literary references in Once Around the Track, as well as literary touches, jokes, lore, tall tales, innuendoes, and subplots. This melange has become a McCrumb trademark and makes use of her oratorical brilliance." - Asheville Citizen-Times

"Beguiling... A heartwarming story that celebrates loyalty and love.for racing cars, rather than just winning prizes." — Richmond Times-Dispatch

"McCrumb, who canonized NASCAR great Dale Earnhardt in her novel St. Dale (2006), imagines yet another contemporary racing legend. This book is populated with strong female characters, from the tough, competent crew chief to the determined attorney to Badger's ruthless manager. And McCrumb's detailed descriptions of the pit crew at work are so strong you can almost smell the motor oil." — Booklist

"It's only fitting, perhaps, that an acclaimed Southern writer should put a feminine face on NASCAR. And Sharyn McCrumb's new novel, Once Around the Track, is a beguiling tale of an all-woman NASCAR crew determined to make a good showing for their wealthy backers." - Judith Chettle, Special Correspondent
My crew chief for the writing of Once Around the Track was my friend and fellow Hokie Adam Edwards, who just got his MBA from Virginia Tech in May. Adam has managed a Busch team, driven both Pure Stock and in the NASCAR Weekly Racing Series, and he teaches for the FastTrack School of Racing. When I was writing the novel, Adam was instrumental in devising the 86 car's winning edge, and his keen instinct for making the action scenes come alive for me was a key part of the narrative.
In December 2005, Adam and I lived the scene in which Taran takes photos of Tony Lafon in his fire suit in Victory Lane at Daytona, and in July of 2006 he gave me my first ride-along in a race car at Lowes Motor Speedway. In research, no matter how long it took or how complex the question, Adam always tried to make sure that I understood and got it right.
Download Discussion Questions for Once Around the Track
Download Chapter One