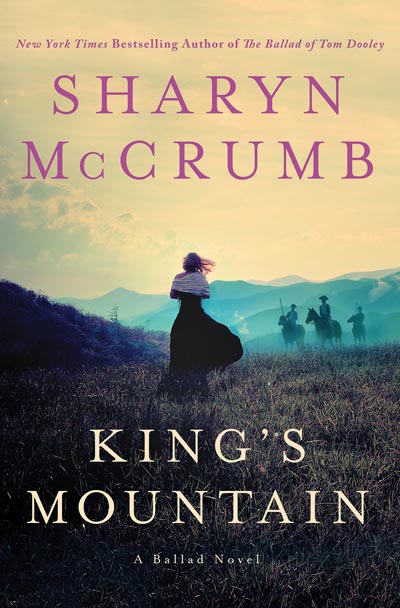 Order Now
Hardcover signed by the author. $26.99 plus $4 domestic shipping. Virginia state sales tax added to orders shipped to Virginia addresses.
Quantity:
---
Revolutionary War - Southern Front
In June 2015 King's Mountain received the Patricia Winn Award for Southern Fiction from the Clarksville/Montgomery County Arts & Heritage Council, Clarksville TN. The novel was also honored by the Edward Buncombe Chapter of the Daughters of the American Revolution in Asheville NC.
King's Mountain tells the story of the Revolutionary War battle that changed the course of the war. Told from the points of view of Patriot leader John Sevier and Tory camp follower Virginia Sal, the novel brings to life the people and events in the southern front of the Revolution—a story largely ignored by the history books.
John Sevier had not taken much interest in the American Revolution. Homesteading in the Carolina mountains, Sevier was too busy fighting Indians and taming the wilderness to worry much about a far-off war, but when an arrogant British officer sent a message over the mountains, threatening to burn the settlers' farms and kill their families, then the war became personal.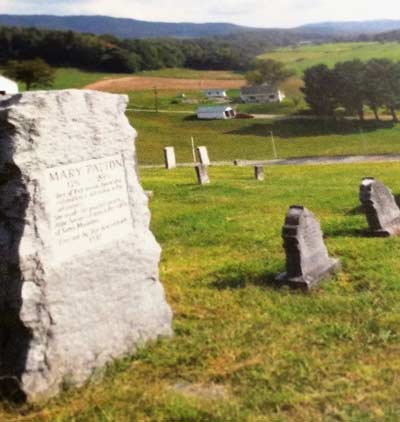 Mary Patton's GraveIn response to that challenge, Sevier (who would become the first governor of Tennessee), Isaac Shelby (first governor of Kentucky), William Campbell (brother-in-law of VA governor Patrick Henry), Davy Crockett's father, Robert E. Lee's father, and a thousand others raised an unpaid volunteer militia of 1,000 men.
Bringing their own guns and their own horses, and wearing their civilian clothes, the Overmountain Men defeated the Tories in 1780 at King's Mountain, west of Charlotte, in what Thomas Jefferson later called, "The turning point of the American Revolution." George Washington's Continental Army had suffered a string of defeats in the north.
The Overmountain Men with their civilian militia proved that the British forces could be stopped, and their victory at King's Mountain inspired the colonies to fight on, ending the war exactly one year later at Yorktown.
First Review of King's Mountain
The trouble with Sharyn McCrumb's work is that it's so finely wrought you get immediately sucked in and can't put the book down. Doesn't matter what the subject is: She makes the world real and the people convincing. It's hard to remember that they live on the pages, not next door.

Ms. McCrumb continues this mastery in King's Mountain, the true story of a little-known battle in the Revolutionary War, said to have turned the tide in America's favor. It forms the tenth volume in her Ballad series, which pays homage to people and events in Appalachian history."

King's Mountain is not a novel read for suspense. The outcome is known from the jacket (as well as the historical record), so read this one for character; time; place; feeling; as well as for education. Ms. McCrumb deeply researches her topics, and in this case she's covering a battle that swept up one of her ancestors so she made sure to get all her facts straight.

The novel, therefore, is more "faction" than historical fiction, because she tells the story through the voices of real people instead of inventing a character to play against a historical backdrop.

She introduces us to the Overmountain Men led by John Sevier, Isaac Shelby, William Campbell, and many others who became notable figures in American history. In the autumn of 1780, unwilling to let the British overrun their territory, these settlers rounded up a thousand volunteers to stop the enemy advance once and for all.

The narrative voice alternates between Sevier, a frontiersman, and Virginia Sal, a camp follower of the British force led by Patrick Ferguson. We also get one chapter in Ferguson's voice, but mainly he is observed by his consort, Virginia Sal. The dual voice gives an intimate view of both sides as they draw closer and closer to a climax battle that proves "war is not a game for gentlemen."

-Carolyn Haley, NY Journal of Books
Download Discussion Questions for King's Mountain