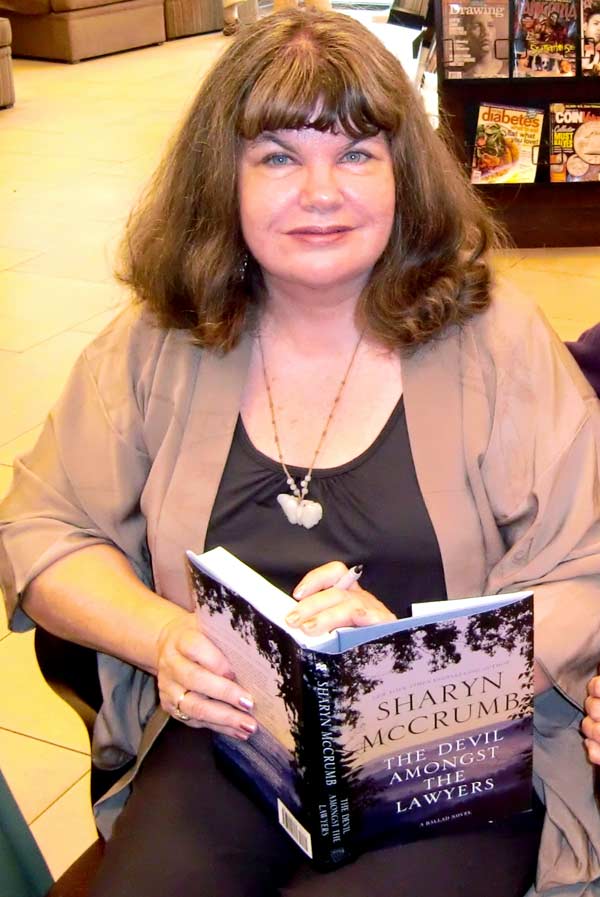 Sharyn McCrumb is an award-winning Southern writer, best known for her Appalachian "Ballad" novels, set in the North Carolina/Tennessee mountains, including the New York Times Best Sellers : The Ballad of Tom Dooley, She Walks These Hills and The Rosewood Casket.
Her books are frequently used in One Community/One Book programs, most recently The Ballad of Frankie Silver by the town of Gallatin TN and Volunteer State College, and The Devil Amongst the Lawyers in Winchester VA.
In April 2014, Sharyn McCrumb was awarded the Mary Frances Hobson Prize for Southern Literature by North Carolina's Chowan University. Named a "Virginia Woman of History" in 2008 for Achievement in Literature, she was a guest author at the National Festival of the Book in Washington, D.C. sponsored by the White House in 2006.
Her novels, studied in universities throughout the world, have been translated into eleven languages, including French, German, Dutch, Japanese, Arabic, and Italian. She has lectured on her work at Oxford University, the University of Bonn-Germany, and at the Smithsonian Institution; taught a writers workshop in Paris, and served as writer-in-residence at King College in Tennessee and at the Chautauqua Institute in western New York.
St. Dale, The Canterbury Tales in a NASCAR setting, in which ordinary people on a pilgrimage in honor of racing legend Dale Earnhardt find a miracle, won a 2006 Library of Virginia Award as well as the AWA Book of the Year Award.
Sharyn McCrumb's other best-selling novels include The Ballad of Frankie Silver, the story of the first woman hanged for murder in the state of North Carolina (new edition, St. Martin's Press, 2013,) which was produced as a play in 2016 by the Parkway Playhouse in Burnsville NC. Ghost Riders, an account of the Civil War in the mountains of western North Carolina, won the Wilma Dykeman Award for Literature from the East Tennessee Historical Society and the Audie Award for Best Recorded Book. It was published in a new edition in March 2012 by J.F. Blair Press of Winston-Salem, NC. A theatrical version of Ghost Riders was staged in June 2014 at the Parkway Playhouse in Burnsville NC.
McCrumb's other honors include: AWA Outstanding Contribution to Appalachian Literature Award; the Chaffin Award for Southern Literature; the Plattner Award for Short Story; and AWA's Best Appalachian Novel. She was recently named "Best Mountain Writer 2013" by Blue Ridge Country Magazine. McCrumb was the first writer-in-residence at King College in Tennessee. In 2005 she honored as the Writer of the Year at Emory & Henry College.
Sharyn McCrumb is the subject of the book From A Race of Storytellers: The Ballad Novels of Sharyn McCrumb. Ed: Kimberley M. Holloway. Atlanta: Mercer University Press, 2005. A graduate of UNC Chapel Hill, with an M.A. from Virginia Tech, she lives and writes in the Virginia Blue Ridge.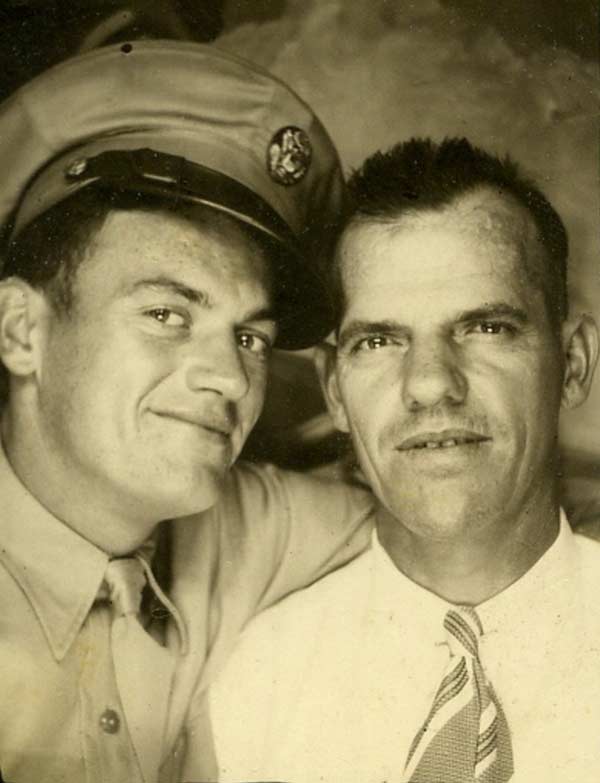 Frank and Spencer Arwood, Sharyn McCrumb's father and grandfatherMcCrumb's great-grandfathers were circuit preachers in North Carolina's Smoky Mountains a hundred years ago, riding horseback over the ridges to preach in a different community each week. It is from them, she says, that she gets her regard for books, her gift of storytelling and public speaking, and her love of the Appalachian Mountains.
"My books are like Appalachian quilts," says Sharyn McCrumb. "I take brightly colored scraps of legends, ballads, fragments of rural life, and local tragedy, and I piece them together into a complex whole that tells not only a story, but also a deeper truth about the culture of the mountain South."
McCrumb provides her own point of view about living in and between these cultures in the following excerpts from an interview with Rebecca Laine:
"I always was interested in the songs and the legends. Those from my father's side of the family always seemed to have so much substance. Mother was from the flatlands of North Carolina around New Bern; that was, I suppose, the Plantation South. Her stories didn't resonate with me. I guess I wasn't meant to be a Southern writer in the Pat Conroy sense of the word."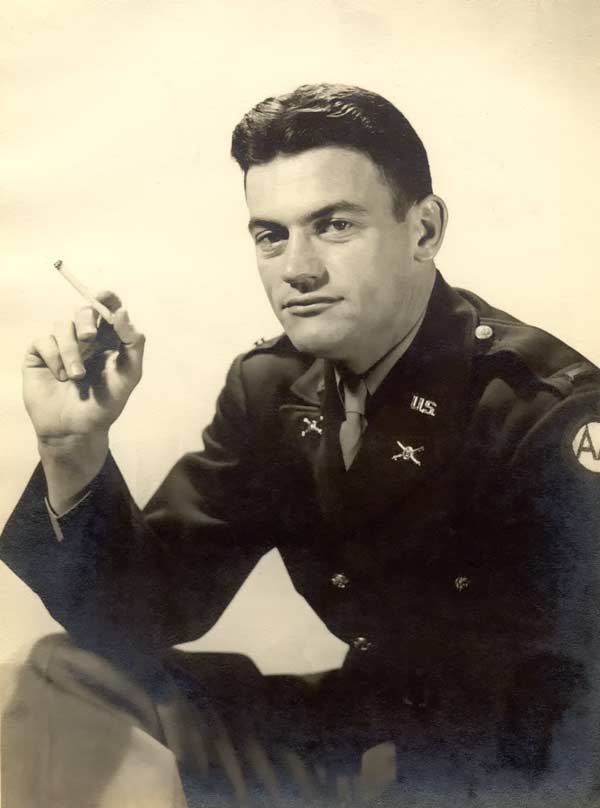 Sharyn McCrumb's father Frank Arwood"Hollywood doesn't seem to pick up on this, but it's pretty obvious to everyone else that the South has more than one culture. The Flatland South is very different from the Mountain South. The Flatland South was settled primarily by the English, by people who didn't mind neighbors, who liked living in community. I've always joked that the mountain people don't work and play very well with others."
"The first indication my parents had that they were from two cultures, although they were born only two hundred miles apart, came when my mother first took my father home for Sunday dinner. He was a young second lieutenant in World War II. Miss Helen was dating the entire officer corps from Camp Davis. When it came his turn to go to dinner, her mother put out all the silver and crystal and linen and served fried chicken and homebaked biscuits and green peas and rice. Lt. Arwood took it all, then reached for the cream and sugar... and put it on his rice! In the mountain culture, the Scots-Irish people saw rice as a grain and used it as a breakfast cereal like oatmeal or porridge; in the flatland South, people put gravy on their rice... that's what the gravy boat was there for. So right there, the cultural chasm was defined."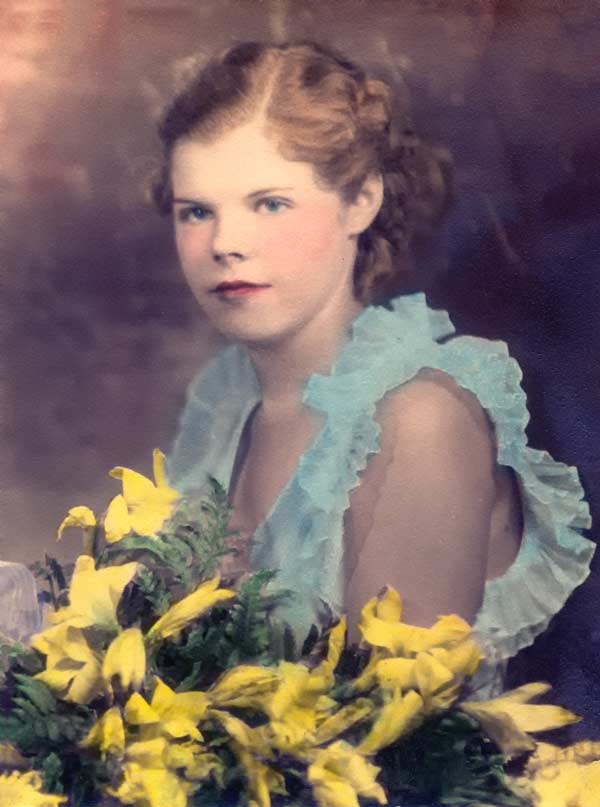 Sharyn McCrumb's mother, Helen"My mother grew up very social, very Southern. The unwritten rules were more important than the written rules. My father was a mountain man from the mountains of western North Carolina; when he was small, his parents moved to east Tennessee, a distance of only about twenty miles. His ancestors on his mother's side came to western North Carolina in 1791. My great, great, great grandfather, Malcolm McCourry, deserves his own mini-series; he was kidnapped from the island of Isla in the Hebrides in 1760 and taken to sea as a cabin boy on a sailing ship. He later became an attorney in Morristown, New Jersey, served as a quartermaster during the American Revolution, and finally settled in western North Carolina within a few miles of the Tennessee line. I told the story of Malcolm McCourry in my novel The Songcatcher (NY: Dutton, 2000)"
"On the other side the Arrowoods [pronounced "Arwood"] and the Honeycutts came about the same time, around 1790, to what is now Mitchell County. Today we think of the West as Matt and Miss Kitty and Dodge City, Kansas, but that was the 1880s. In the 1780s the West was the Pennsylvania border around Fort Duquesne and western Carolina and east Tennessee and southwest Virginia. I grew up with all these wonderful stories of relatives finding lost silver mines and running away from armies during the Civil War."
The Ballad Novels
The Ballad novels are a series of books set in the mountains, weaving together the legends, natural wonders and contemporary issues of Appalachia.
If Ever I Return, Pretty Peggy-O, Scribner (New York, NY) 1990
The Hangman's Beautiful Daughter, Scribner (New York, NY) 1992
She Walks These Hills, Scribner (New York, NY) 1994
The Rosewood Casket, Dutton (New York, NY) 1996
The Ballad of Frankie Silver, Dutton (New York, NY) 1998
The Songcatcher, Dutton (New York, NY) 2001
Ghost Riders, Dutton (New York, NY) 2003
The Devil Amongst the Lawyers, Thomas Dunne (New York, NY) 2010
The Ballad of Tom Dooley, Thomas Dunne (New York, NY) 2011
King's Mountain, Thomas Dunne (New York, NY) 2013
Nora Bonesteel's Christmas Past, Abingdon Press 2014
Prayers the Devil Answers, Atria Books 2016
The Unquiet Grave, Atria Books 2017
The NASCAR Novels
St. Dale, Kensington (New York, NY) 2005
Once Around the Track, Kensington (New York, NY) 2007
Faster Pastor, (with Adam Edwards) - High Country Press (Boone NC) 2010)
Early Works: Elizabeth MacPherson Novels
Sick of Shadows, Ballantine (New York, NY) 1984
Lovely in Her Bones, Ballantine (New York, NY) 1985
Highland Laddie Gone, Ballantine (New York, NY) 1986
Paying the Piper, Ballantine (New York, NY) 1988
The Windsor Knot, Ballantine (New York, NY) 1989
Missing Susan, Ballantine (New York, NY) 1990
MacPherson's Lament, Ballantine (New York, NY) 1992
If I'd Killed Him When I Met Him, Ballantine (New York, NY) 1994
The PMS Outlaws, Ballantine (New York, NY) 2000
Early Works: The Jay Omega Novels
Bimbos of the Death Sun, TSR Books 1986
Zombies of the Gene Pool, Simon & Schuster 1992
Short Story Collection
Foggy Mountain Breakdown, Ballantine (New York, NY) 1997
Contributions of Short Story to Anthologies or Literary Magazines
Fairy Tale Princesses of the Civil War, Ed. Elizabeth Baird Hardy. Gateways Magazine, Mayland Community Colelge, Spruce Pine, NC 2012.
Rattler and the Mothman, The Monster's Corner, - Ed. Christopher Golden- St. Martin's, 2011.
Settling Up, Smoky Mountain Living, (Waynesville NC), Vol. 9, No. 4 - Summer, 2009
A Wing and A Prayer, Blood Lite II, -Ed. Kevin J. Anderson - Pocket Books, 2010
Hands Across the Ridge, Appalachian Heritage. Ed. George Brosi. Berea KY: Spring, 2008
The Mountain House Poe, Ed. Ellen Datlow - Solaris Press, 2008
Dead Hand , Blood Lite, -Ed. Kevin J. Anderson - Pocket Books, 2008
Parting Shot, Iron Mountain Review, Emory & Henry College, Spring 2006
Abide With Me, Appalachian Heritage. Ed. George Brosi. Berea KY: Fall, 2004
The Resurrection Man, (novella). Transgressions. Ed. Evan Hunter. New York, Forge: 2005
The Wish Hounds, Hellboy: Odder Jobs. Ed. Christopher Golden. Dark Horse, 2005
Thomas the Rhymer, The Book of Ballads. Ed. Charles Vess. New York: Tor, 2004
Music When Soft Voices Die, The Rose & The Briar, American Ballads. Ed. Greil Marcus and Sean Willenz. Norton: 2004
The Gallows Necklace, The Dark, ed. Ellen Datlow. New York: Tor, 2002
Non Fiction Publications
Sharyn McCrumb's Appalachia - A Collection of Essays about the Mountain South. Waverly TN: Oconee Spirit Press, 2011.
Living Historians, Ed. Cara Modisett. Blue Ridge Country. Roanoke VA: December 2009
Comfort Me With Apples, Mountain Homes Magazine, (Roanoke VA), Winter, 2007.
Excerpt from The Songcatcher. Ed. Sandra L. Ballard and Patricia L. Hudson. Listen Here: Women Writing in Appalachia. Lexington KY: U.K. Press, 2003
Foreword. Virginia Tech: Cut in Stone: A University of Timeless Beauty Allen TX: DSA Publishing, 2007
My Driver Ed. Norma R. Wilson. Now & Then. Johnson City TN: East Tennessee State Univ. Volume 21, Number 2, Fall 2005
The Cosmic Possum Ed. Cara Modisett. Blue Ridge Country. Roanoke VA: April 2005
Born to Die: Tom Dooley Ed. Cara Modisett. Blue Ridge Country. Roanoke VA: January 2007
The First Appalachian Journey: The Serpentine Chain Ed. Matthew Wasson. Appalachian Voice. Winter 2005. Boone NC.
The Liminal State of Franklin: Magic Realism in Appalachia Voices of the Mountains. Ed. Rob Neufeld. Asheville, NC: March/April 2001
A Cave on Mull - From Here to There: Stories From a Mobile Virginia Ed. Dan Smith. Roanoke VA: VA Museum of Transportation,1998
The Celts and the Appalachians Ed. Barbara Peters. Scottsdale, AZ: Poisoned Pen
AUDIO BOOKS
The Devil Amongst the Lawyers - Unabridged. Recorded Books, Recorded Books, 270 Skipjack Road, Prince Frederick, MD 20678.
Faster Pastor - Unabridged. Read by Nicole Poole. Recorded Books, Recorded Books, 270 Skipjack Road, Prince Frederick, MD 20678.
Once Around the Track - Recorded Books, 2008.
St. Dale - Unabridged Read by Anna Fields; BBC Audiobooks America, PO Box 450, Hampton NH 03843
Ghost Riders - Unabridged. Brilliance Audio Books, P.O. Box 887, Grand Haven, Michigan 49417. 2003. Winner: 2004 Audie Award
Ghost Riders - Abridged. Brilliance Audio Books. 2003.
Ghost Riders/Rank Strangers - Companion CD to Ghost Riders, Sharyn McCrumb and Jack Hinshelwood, P.O. Box 495, Shawsville, VA 24162. 2002.
The Songcatcher - Unabridged. Read by James Daniels and Aasne Vigesaa. Brilliance Audio Books, 2001.
The Songcatcher - Abridged. Read by James Daniels and Aasne Vigesaa. Brilliance Audio Books, 2001.
The Rowan Stave - Companion CD to The Songcatcher, Sharyn McCrumb and Sweetwater, Sweetwater Productions, 643 E. Euclid Ave., Springfield, OH 45505, 2001.
The Ballad of Frankie Silver - Unabridged. Read by C.M.Herbert. Blackstone Audio Books, P.O. Box 969, Ashland, Oregon 97520. 1998
The Ballad of Frankie Silver - Unabridged. Read by Jeff Woodman & Barbara Rosenblatt. Recorded Books, 270 Skipjack Road, Prince Frederick, MD 20678. 1998.
The Ballad of Frankie Silver - Abridged. Read by Sharyn McCrumb. Dove Audio, 8955 Beverly Blvd., Los Angeles CA 90048.
The Rosewood Casket - Unabridged. Read by Sally Darling- Recorded Books 1996
The Rosewood Casket - Unabridged. Read by C.M. Herbert- Blackstone Audio Books, 1996.
The Rosewood Casket - Abridged. Read by Sharyn McCrumb- Penguin Audio Books, 375 Hudson Street, New York, NY. 1996.
She Walks These Hills - Unabridged. Read by Sally Darling- Recorded Books 1994
She Walks These Hills - Unabridged. Read by Buck Schirner. Brilliance Corporation. 1994
She Walks These Hills - Abridged. Read by Buck Schirner. Brilliance Corporation. 1994
She Walks These Hills - Unabridged. Read by C.M. Herbert. Blackstone Audio Books. 1996
The Hangman's Beautiful Daughter - Unabridged. Read by Sally Darling- Recorded Books. 1993
If Ever I Return, Pretty Peggy - O. Unabridged. Read by Sally Darling- Recorded Books, 1993
Foggy Mountain Breakdown - Abridged. Read by Sharon Gless. Durkin Hayes Audio, 3375 North Service Rd. Burlington, ONT L7N 3G2 Canada. 1997
Also Recorded Unabridged by Recorded Books
If I'd Killed Him When I Met Him
The Windsor Knot
Paying the Piper
Highland Laddie Gone
Lovely in Her Bones
Sick of Shadows
MacPherson's Lament
Missing Susan
PMS Outlaws
Bimbos of the Death Sun
Zombies of the Gene Pool